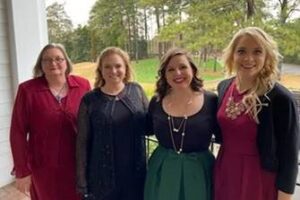 An Update for Our Valued Clients
First, we sincerely hope that you and your families – at home and at work – are all healthy and whole during these strange and difficult times.  We want to let you know that your USA Telecom team is here for you.  Our entire organization has been working remotely since mid-March. However, our capacity to provide quality customer service and competitive quotes to our retail agents has not been diminished.
Second, since the majority of us are working in a remote environment, we wanted to give you the opportunity to virtually meet our team.  From left to right 1st photo:  Pam Miller, Bethany Miller, Morgan Gordon, and Tyler Orlando.  2nd photo:  standing  is  Dennis Robinson and Bruce Eades and sitting is Pam Miller and Bethany Miller.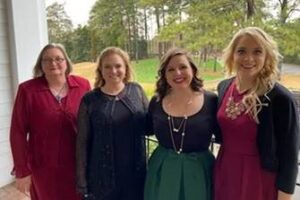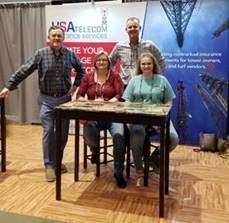 Finally, we have all heard the advice that it's important to remain connected to others in this time of isolation.  With that in mind, we want to give you the opportunity to learn a little bit more about your USA Telecom team.
Dennis Robinson, CEO
Dennis is spending quality quarantine time with his wife, Dondra.  Their son, DJ, and daughter, Alexandra, are quarantining in their own homes.  Alex is a Neuro ICU nurse at UAB Hospital, so she's also a hero.  Dennis misses interacting with his teammates, clients, friends, and family.  Dennis has taken this opportunity of isolation to get fit by working out in his home gym daily.  He also has the spiritual blessing of having more time to study and read the Bible instead of driving hither and yon all day, every day. 
Bruce Eades, President
Bruce is spending quality quarantine time with his wife, Polly; daughter, Anna; sons Ben and David; their three dogs; Katie, Rounder and Trotter;  one hen with seven new chicks; three goats; two cows; twi donkeys; and a partridge in a pear tree.  OK, so the last one was a throw-in.  Bruce misses seeing our awesome staff and eating at the Collegiate Grill.  If you're ever in Gainesville, Georgia, Bruce would be happy to take you over to Collegiate, a classic American diner hangout that serves burgers, fries, and hand-dipped milkshakes.  Bruce is blessed to have his entire family with him and has a new realization of how great is our God.  Plus, there's far less stress for Bruce now that his hectic travel schedule has been cleared.
Pam Miller, Project Manager & New Business Underwriter
Pam is spending quality quarantine time with her husband, David, and their two cats Cleopatra and Gizmo.  Cleo is quite the attention hog and has photo-bombed more than a few WebEx meetings lately.  Pam misses the in-person interaction with her daughter, her granddaughter, her USAT team, and HUGS.  Pam and her husband of 41 years have spent the most time together in a very long time…and are actually enjoying it!  (See:  Relationship Goals).
Bethany Miller, Renewal Underwriter
Bethany is spending quality quarantine time with her significant other, Shawn; her son, Anthony; dogs Uno and Paisley; cats Scute and Sushi; and a Firebelly toad named Prague.  No, seriously.  A toad.  Bethany's daughter, Emily; son, Johnny; and new grand baby, Olivia are all quarantining in their own homes.  Bethany misses working with her team and hearing their voices in the background as she cranks out renewal quotes. She also misses going to restaurants, especially Mexican restaurants! Bethany is loving her commute from the bedroom to the home office.  She is also grateful to have a career that allows her the ability to work at home during this crisis.  On Sunday, the church outside her neighborhood has drive-in services, and she can hear the comforting music from her home.  Finally, Shawn is a great cook!
Morgan Gordon, New Business Underwriter Assistant
Morgan is spending quality quarantine time with her husband, Sam; her 6-year-old daughter, Sadie Grace; and their 2-year-old Great Dane, Harper.  Morgan is lucky to live close to extended family, but due to preexisting health issues, she has chosen not to spend time with them, even with social distancing.  Also, Target.  She's misses Target, a lot.  Because Morgan and her husband both work, this is the first time they have had this much quality time with Sadie Grace since she started daycare at 10 weeks old.
Tyler Orlando, Renewal Underwriter Assistant
Tyler is spending quality quarantine time with her husband, Michael, and her sweet cat ,Milo.  Her brother-in-law and sister-in-law, who live in their basement apartment, are able to visit occasionally.  Tyler misses being able to hang out with her friends on a regular basis and having a reason not to be in the house all of the time.  She also misses eating out and has been craving Mexican food like crazy.  She can attest that Mexican food prepared at home is not the same as eating it in a real Mexican restaurant!  Tyler is grateful that she is still able to work.  She has many friends who have not had the blessing of an uninterrupted work schedule and are now struggling. 
Please let us know if there is anything we can do for you or your clients at this time.  Stay well!