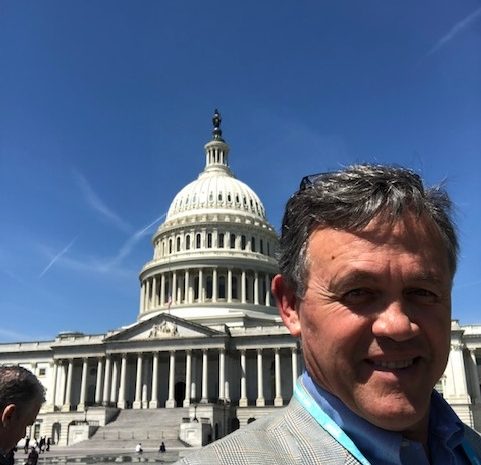 The Communications Jobs Training Act of 2019 and Legislative Involvement

Are you staying current on legislative news and initiatives that could impact the telecommunications industry? We'd like to highlight some of the ways we are at USA Telecom Insurance Services.
Earlier this year, USA Telecom CEO Dennis Robinson attended the NATE Member Congressional Fly-In event in Washington, D.C. This event was held in May with meetings between NATE members and senators and representatives. The purpose was to ask for support of the bipartisan bill Communications Jobs Training Act of 2019.
This bill seeks $20 million for each of the fiscal years 2020 through 2022 to be used for educating future tower hands. This will be accomplished through a standardized curriculum administered throughout the country at various technical colleges.
"The importance of workplace development is critical for this industry and our insureds. That's why we support the Communications Jobs Training Act of 2019," said Robinson. "This legislation will help educate and produce more workers for an industry that is experiencing a drastic workforce shortage."
In July, Rio Steel, whose commercial insurance is written through USA Telecom, was part of an invited delegation of NATE leaders "commemorating the one-year anniversary of the Pledge to America's Workers initiative, a key program of the administration's National Council for the American Worker," according to a NATE press release. The event included listening to remarks made by President Trump and Ivanka Trump.  "During the event, the President and Ivanka Trump also facilitated a round table discussion with workers and executives representing a diverse group of industries to foster dialogue regarding workforce development priorities and the prominent role workers play to keep the American economy strong and vibrant."
"I would like to thank President Trump, presidential advisor Ivanka Trump, and other top administration officials for the opportunity to participate in [this] event," said Ky Nguyen, a foreman at RIO Steel & Tower LTD. in Alvarado, Texas, in the NATE press release. "It was an honor to represent the tower technician workforce today at the White House and highlight the jobs and career opportunities available to workers in our robust and rewarding industry.
You don't have to travel to Washington, D.C. to be actively involved in legislative matters. You can find info to contact elected officials  and make your voice heard any time online and also find tips for communicating with them as well. And don't forget about your local elected officials. Organizations, such as NATE, also can help you stay current and active within legislative initiatives and provide contacts to further support the telecommunications industry now and in the future.