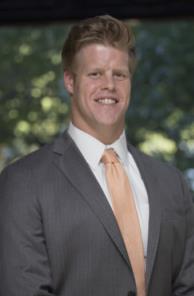 Agent Spotlight: David Van Amburgh
This month our retail agent spotlight is on David Van Amburgh. We hope his path into insurance and his experience with us here at USA Telecom Insurance Services will inspire you!
Agent Name: David Van Amburgh
Agency name: Arthur J. Gallagher

City & State located in: Dallas, Texas
What got you into insurance and how long have you been in insurance? "When I was a junior in college, Gallagher was on campus recruiting for the summer internship program. I was an intern during the summer going into my senior year and got an offer to start full time after graduation in May 2015. I started full time in August 2015, and I have been at Gallagher for four years. Most of my family works in construction and real estate here in Dallas. I decided to take the road less traveled."
Any special niches that you target? "Construction, Real Estate, Transportation, Manufacturing and anything else that may come across my desk."
How did you hear about USA Telecom? "Two years ago, I was struggling with finding a workers compensation market for my client, who had only been operating for two years prior. They were beginning to get into tower climbing. The marketing coordinator in our office was familiar with USA Telecom, and we reached out to Pam Miller and her team. They knocked it out of the park!"
How has USA Telecom helped you with your telecom accounts? "Tremendous resource! The loss control assistance, monthly payroll reporting and how easy it is for the client to do everything is great!"
Thank you, David, for trusting us to meet the insurance needs of your clients.
You can join us as a retail agent just like David did by simply reaching out to us. Our team is ready to discuss your insurance needs and be that resource you and your clients need within the telecommunications industry.
You can easily find more information on our website or contact us directly at 800.645.8699 or info@usatelecomins.com. We look forward to talking with you.
USA Telecom is a full service MGA dedicated to meeting the needs of retail insurance agents and their telecommunication customers. A very competitive insurance program is available to agents nationwide. USA Telecom exceeds all industry insurance requirements by major carriers and contractors.