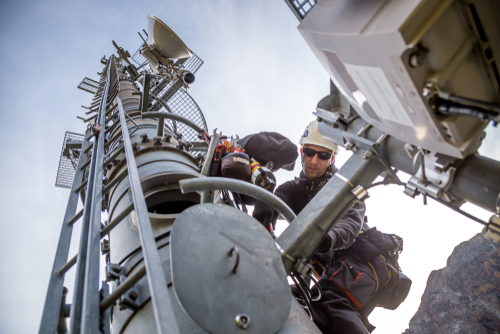 RF Safety for Telecommunications Tower Technicians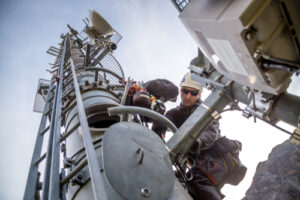 Safety equipment protects tower climbers from avoidable injuries and fatalities. Each site and each day, they must consider the specific hazards that are presented— such as from weather or other conditions—and determine the right protection needed. However, the tools required for certain jobs also might guard tower technicians from unseen hazards, including radio frequency (RF) radiation.
RF Energy's Impact
Cell, radio, and television towers transmit data using RF waves. As each tower sends outbound data, it also produces a type of thermal radiation. Over time, prolonged and excessive exposure to RF energy is believed to cause short- and long-term health effects in tower personnel, including:
Fatigue
Fever
Headache
Low blood pressure
Nausea
Skin rash
 RF Safety for Tower Personnel
While the full biological effects of RF radiation are unclear, it's increasingly imperative that crews are able to detect RF levels and avoid contact where possible. Similar to fall protection devices, the right equipment and safety measures help to guard technicians from RF emissions including:
Protective suits — Tower personnel working in areas with detected RF must wear RF suits, which are made with RF-blocking materials.
Planned procedures – Proper procedures should be in place (deactivation, lockout-tagout, etc.) as well as climb plans, and all parties should be informed.
Proper training – All workers must be trained to work in an RF environment and use the right equipment. Make sure your team is up to date at all times.
RF monitors — Portable, wearable monitors give tower climbers and ground workers accurate RF measurements and can warn them when levels rise.
Warning signage — Because RF exposure is an unseen site hazard, ground workers and tower personnel should be aware of all RF warning signage.
Managing the Risk of RF
Regardless of the fall protection, RF protection, and other health and safety protocols you have in place, there still are unexpected and unavoidable on-site situations for which your company and your crew need insurance coverage. Through a comprehensive and intuitive risk management program, tower operators can protect workers more effectively.
To learn more about the risk management options designed specifically for tower companies by experts who know the industry, contact us today.