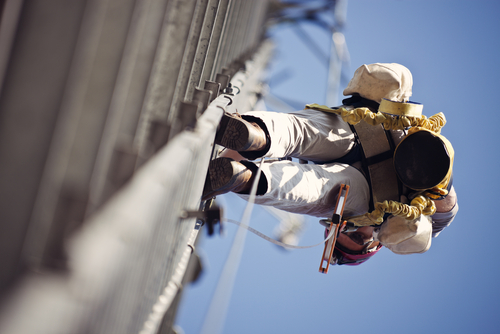 Fall Protection Standards in the Tower Industry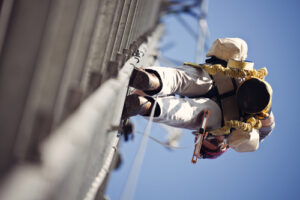 Cell tower structures range anywhere from 50 feet to 2,000 feet in height, depending on the type, which means climbers are often one malfunctioning piece of equipment, electrical hazard, or unclear hand signal away from a potentially fatal fall. That's why organizations like the National Association of Tower Erectors (NATE) and the Occupational Safety and Health Administration (OSHA) partner to set the standards in tower safety and, more specifically, fall protection.
To better serve your clients with the top-of-the-line coverage necessary for the tower industry, take a look at the industry standards that owners and manufacturers adhere to.
Fall Protection Standards for Tower Climbers  
According to OSHA, employers assume a "duty to have fall protection." When tower climbers perform maintenance or reparative work on tower structures over six feet in height, OSHA 1926 Subpart M enforces specific fall protection devices, training, and practices. Some of the key sections include:
501 – This section outlines the overarching requirement for employers to provide fall protection systems.
502 – This section details the criteria and specific fall protection practices.
503 – This section covers the requirement of employers to assign competent persons to train crewmembers in areas such as fall hazards and the use of fall protection systems.
Commonly Used Fall Protection Equipment
Preventing injuries and fatalities starts with the right equipment. Companies must provide and train each crewmember to navigate personal fall protection arrest systems and the equipment necessary to such systems, including:
Anchor points
Harnesses
Ladders
Safety lanyards
Scaffolds
Self-retracting lifelines
Why Fall Protection Matters to Every Crew
Fall prevention is a high priority in the industry for a host of reasons along with overall risk management and claims mitigation. Crews that fail to adhere to fall protection standards risk not only the safety of their tower climbers but also the reputation of their organization.
While tower climbers typically agree that, even in the face of good safety practices and enforcement, the ultimate responsibility is on each worker, it only points out the need for vigilance and expert partners. NATE and OSHA parent a portion of responsibility by establishing and enforcing fall protection standards. However, tower owners, contractors, and subcontractors must ensure the safety of workers through appropriate equipment, training, and coverage.
For comprehensive protection for businesses in the tower industry, it's best to find an all lines insurance program with expert advisors who know and understand the unique exposures and emerging risks present in the industry. That's where USA Telecom Insurance Services comes in. To learn more, contact us today.