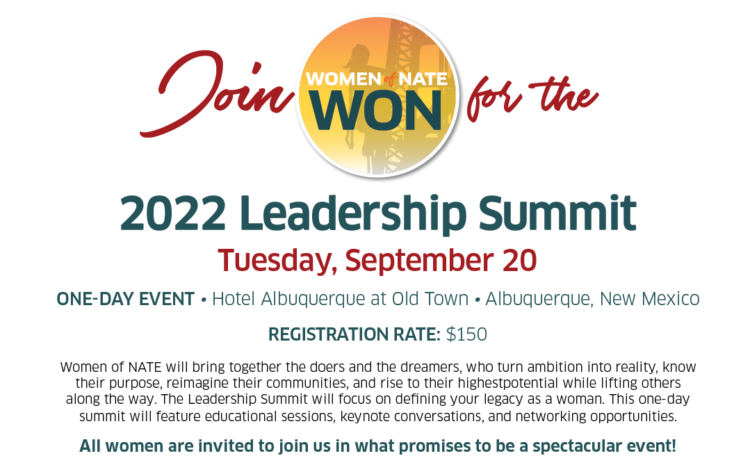 Get Inspired at the 2022 Women of NATE Leadership Summit
On Tuesday, Sept. 20, 2022, all women are invited to participate in the 2022 WON Leadership Summit in Albuquerque, New Mexico. Join USA Telecom Insurance Services Director of Telecommunications Safety & Compliance Stephanie Brewer at what promises to be a spectacular summit.
About WON Leadership Summit
Held at Hotel Albuquerque at Old Town, the WON Leadership Summit prides itself on bringing together the doers and the dreamers of the industry – women who turn ambition into reality, know their purpose, reimagine their communities, and lift others along the way.
WON Leadership Summit Highlights
After a welcome introduction by WON Chairwoman Andy Page Lee, the one-day event will feature six educational sessions and a keynote luncheon focused on helping attendees define their legacy as women while reaching their highest potential.
SESSION 1 (9 a.m.-9:45 a.m.) – "Reset and Recharge" with Betsy Allen-Manning, founder, Motiv8u Enterprises

Reduce stress, burnout, and negativity
Revive your productivity, mindset, and purpose
SESSION 2 (10 a.m.-10:45 a.m.) – "Conscious Leader, Back2Basics" with Leticia Latino, president and CEO, Neptuno USA Corp

Achieve a Back2Basics Mindset
Find out how to lead from a deeper place
Learn why you need to create a "safe" work environment
SESSION 3 (11 a.m.-11:45 a.m.) – "Befriending the Body for Success" with Dr. Alexandra T. Milspaw, director, Behavioral Health Services

Learn ways to befriend the body in order to access wisdom, intuition, and creativity while helping to address the stress, exhaustion, and other health issues that can come with being a powerful working woman.
KEYNOTE LUNCHEON (12 p.m.-1:30 p.m.) – Impact Leader Betsy Allen-Manning, founder, Motiv8u Enterprises

Develop talent, improve productivity, and build a culture that people love.
SESSION 4 (2 p.m.-2:45 p.m.) – Storytelling Series: "Path to my Legacy… A Personal Journey"

Hear the stories of amazing women and how they are defining their legacy.

Moderator Christy Hall, vice president, Texoma Contracting Inc.
Kat Clemmons Lea, owner/VP sales and marketing, Elk River Inc. & Jelco
Loui McCurley, CEO, Pigeon Mountain Industries (PMI)
Amanda Stegall, director of lighting operations, MILLERCO
SESSION 5 (3 p.m.-3:45 p.m.) – "Sales Strategies for the Digital World" with Monica Vink, marketing director, Ontivity

Learn how to use social media when prospecting and building relationships.
Build and optimize your personal social media accounts to support your selling efforts.
Get a vibe on social listening and how it can be a superpower.
SESSION 6 (4 p.m.-4:45 p.m.) – Speed Networking moderated by Jordyn Miller-Ladner, operations manager, MILLERCO

Quickly make new connections with other women from all aspects of the industry in a fun, structured setting.
There will also be a networking reception from 5 p.m. to 6:30 p.m. to help you connect with and uplift other industry professionals.
About Stephanie Brewer
As director of telecommunications safety and compliance at USA Telecom Insurance Services/Insurance Office of America, Stephanie Brewer supports clients in risk and safety, compliance, training, and operational efficiencies. She has more than 14 years of experience working in the telecommunications industry. Stephanie stays actively involved in many areas of the industry to be an advocate for the telecom clients she represents.
About USA Telecom
To guard your organization with top-quality coverage, partner with a provider that designs programs for your industry. At USA Telecom Insurance Services, our program includes property, commercial automobile, general liability, workers compensation, umbrella, and drone coverage. If you're interested in selecting coverage for your tower company or learning more about our insurance options, contact a broker today.