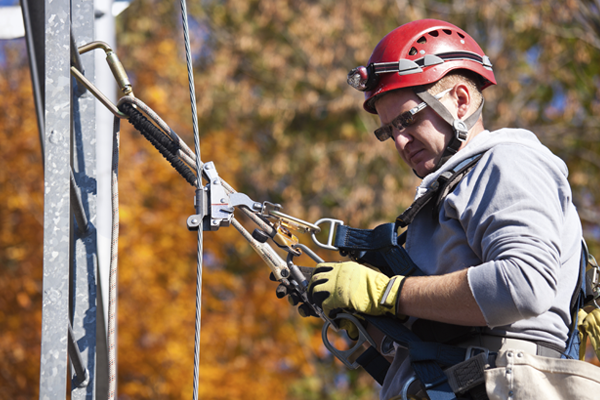 Essential Climbing Equipment for Telecom Tower Workers
Telecommunications tower workers have one of the most dangerous jobs in the United States. Day or night and in a variety of conditions, every tower climb can be viewed as a safety risk. That is why there are standards, practices, and regulations in place to keep job sites safe and tower workers properly trained and equipped to do their job.
Telecom Tower Worker Essential Equipment Checklist
To maintain a safe working environment, it is important that each job site has a checklist of essential climbing gear. The following equipment pieces are must-haves for any telecom tower worker.
Harness – A harness is arguably the most important piece of climbing equipment as it is basically a telecom tower worker's climbing suit.
Helmet – A good, strong helmet is vital for protection from serious head trauma or brain damage in the event of a fall or falling objects.
Lanyard – A lanyard is essential for shock reduction and absorption. Twin leg variants are the most recommended type of lanyard.
Cable grab – Most telecommunications towers have a cable system, so it's essential to have sturdy cable grabs, or cable safety sleeves, to attach to the system.
Pass-through sling – For those times when a tower climber needs to make an anchorage point, a pass-through sling is the necessary piece of climbing equipment that allows one to be
Positioning lanyard – When the cable climb system is an impedance, a tower worker can move to a new spot using their twin-leg lanyard and use the positioning lanyard to work handsfree.
Bolt bag – Tower workers only have two hands but they must carry many items. A bolt bag provides a place to hold bolts, nuts, and small tools safely.
Carabiners – While carabiners have many applications, they are great for connecting a bolt bag to the
Essential Insurance for Telecom Tower Workers
Along with following stringent safety standards to the letter, the above essential climbing equipment allows tower workers to safely perform their job. Additionally, comprehensive telecom tower insurance coverage adds an important layer of protection to your job site.
To guard your tower company and personnel with top-quality coverage, partner with a provider that designs programs for your industry. At USA Telecom Insurance Services, our program includes property, commercial auto, general liability, workers compensation, umbrella, and drone coverage. If you're interested in selecting coverage for your tower company or you'd like to learn more about our insurance options, contact our team today at 800-645-8699.