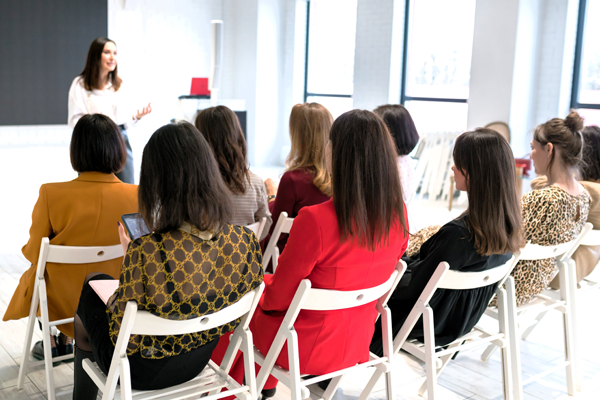 USA Telecom's Stephanie Brewer to Present at the NATE 2023 Women's Leadership Summit
USA Telecom Insurance Service's own Director of Telecommunications Safety & Compliance Stephanie Brewer will be speaking at the NATE 2023 Women's Leadership Summit on Thursday, September 21, 2023, in Grapevine, Texas. Stephanie's leadership expertise combined with her active involvement with telecommunications industry associations make her the perfect fit to speak on why NATE membership is valuable for all interested individuals. All Women of NATE (WON) are invited to join in for what promises to be an engaging day of insight and inspiration.
About the WON Leadership Summit
Held at the Embassy Suites by Hilton Grapevine DFW Airport North, the 2023 Women's Leadership Summit is hosted by Women of NATE: The Communications Infrastructure Contractors Association. The summit aims to redefine the rules of leadership for a new chapter of change by, for, and of women. This new era will be comprised of inclusive, empowering, and equitable cultures that allow women to succeed.
2023 WON Leadership Summit Highlights
After a welcome introduction by WON Chairwoman Andy Page Lee, the one-day event will feature six educational sessions and a keynote luncheon hosted by Leslie Mouton, creative media director for Morgan's Wonderland.
SESSION 1 (8:45 a.m. – 9:30 a.m.)

Speed Networking – Building and Cultivating Relationships

Jordyn Ladner – Operations Manager, MILLERCO
SESSION 2 (10:00 – 10:45 a.m.)

Power Pairing – Mentorship, Colleagues, Leaders

Moderator: Evelyn Torres – CEO, Solaris Technologies Services
Lindsey Westphal – Controller, Wave Communications
Jyoti Ojha – Principal Structural Engineer
Belinda Fadley – Director OEM Sales, WANHO Manufacturing LLC
SESSION 3 (11:00 – 11:45 a.m.)

Navigating the Field – Industry Perspectives

Moderator: Kathy Stieler – NATE Director of Safety, Health & Compliance
Molly Cooper – Project Implementation, eSystem Training Solutions
Steph Petri – Instructor and Rope Technician, Elevated Safety
Khristy Santee – CEO & President, TNT Communications
NATE Membership 101 (1:45 – 2:00 p.m.)

What Can NATE Do for You?

Stephanie Brewer – Director of Telecommunications Safety & Compliance, USA Telecom Insurance Services/Insurance Office of America
SESSION 4 (2:00 – 2:45 p.m.)

Generational Viewpoints of Women in Leadership Roles

Moderator: Karen Page – Human Resources Consultant, LALS Inc.
Isabela Jimenez – Industry Events & Special Projects Coordinator, Canadian Telecommunications Association
Sonya Roshek – President, Roshek Consulting
Erin Smith – Marketing Director, Thayer Wireless Solutions
Dominique Valdez – Owner & Vice President of Operations, Wireless Construction Solutions
SESSION 5 (3:00 – 3:45 p.m.)

Mastering a Meeting – Captivating Audiences Online and In Person

Heather Gastelum – Senior Manager, National Site Safety, T-Mobile
SESSION 6 (4:00 – 4:45 p.m.)

Recruiting and Retaining Your Workforce

Moderator: Heidi Nelson – Director of Business Development, Harmoni Towers
Kimberly Combs – HR Director, Thayer Wireless Solutions
Cylie Carr Price – Division Manager, ET Tower
Chloe Tucker – Director of Human Resources, VIKOR
There will also be a networking reception from 5:00 – 6:30 p.m. to help you connect with and uplift other industry professionals.
About Stephanie Brewer
As director of telecommunications safety and compliance at USA Telecom Insurance Services/Insurance Office of America, Stephanie supports clients in risk and safety, compliance, training, and operational efficiencies. She has nearly two decades of experience working in the telecommunications industry. Stephanie stays actively involved in many areas of the industry to be an advocate for the telecom clients she represents.
About USA Telecom
To guard your organization with top-quality coverage, partner with a provider that designs programs for your industry. At USA Telecom Insurance Services, our program includes property, commercial automobile, general liability, workers compensation, umbrella, and drone coverage. If you're interested in selecting coverage for your tower company or learning more about our insurance options, contact a broker today.