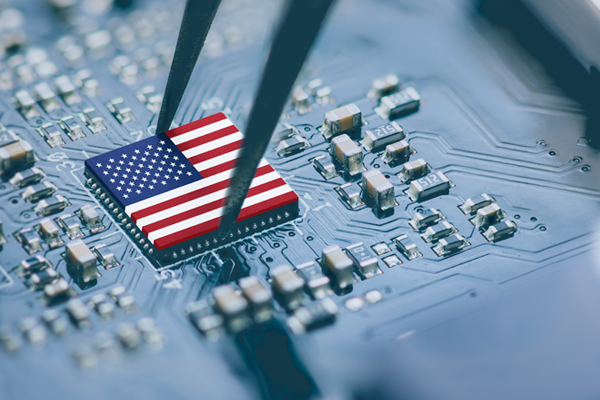 The Impact of the CHIPS Act on the Telecom Industry
In August 2022, President Biden signed into law the long-awaited Creating Helpful Incentives to Produce Semiconductors and Science Act of 2022 (CHIPS Act). This bill provides three major incentives for semiconductor fabrication plants, or fabs, including $52 billion in funding for chip and facility manufacturing, tax relief for local fabs, and $200 billion for scientific research and development and commercialization. The increase in funding also will have a positive impact on the growth of the telecommunications industry.
3 Ways the CHIPS and Science Act Affects Telecom
Creates More Jobs

Fabs are expected to increase the United States' production of microchips. Microchips have skyrocketed in demand and are used in a variety of technologies, including cars, medical equipment, military weapons, and cellphones. When there is an increased demand for phones in the United States, the need is greater for nationwide coverage, which results in more towers installed and maintained and the need for skilled science, technology, engineering, and mathematics (STEM) workers.

Increases U.S. Competitiveness

The U.S. once produced 37% of the world's microchips, but that number since has decreased to 12%. In fact, most microchips in U.S. products are imported from other countries, including China, South Korea, and Taiwan. By investing in domestic microchip production, the U.S. will be able to compete with other world powers and become self-sufficient in technological production. This increases both competitiveness and national security, while enhancing the telecom industry significantly through innovation, production, and opportunity.

Addresses Supply Chain Shortages

U.S. supply chain management during the COVID-19 pandemic created supply shortages in many industries, including microchip production. Since the country was heavily reliant on importing microchips, several critical technologies such as phones and laptops experienced shipping delays. The CHIPS Act addressed this crisis by investing $1.5 billion in the promotion and deployment of wireless technologies that use open and interoperable radio access networks.  As the supply chain gets back to pre-pandemic levels, the investment in wireless technology by the U.S. government allows for increased innovation in the wireless industry.
Insure Your Telecom Workers
With the anticipated demand for telecommunications workers, you'll want to make sure your tower workers are protected. To guard your tower company and its personnel with top-tier coverage, partner with USA Telecom Insurance Services. Our program includes property, commercial automobile, general liability, workers compensation, umbrella, and drone coverage.
If you're interested in selecting coverage for your tower company or learning more about our insurance options, contact our team today.