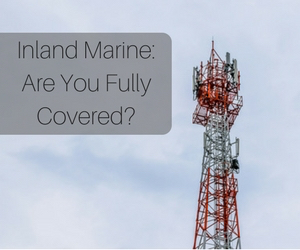 Inland Marine Insurance: Are You Fully Covered?
Inland Marine Insurance: Are You Fully Covered?
The name might be a bit misleading, but inland marine coverage does not cover products transported over water like marine insurance. Instead, inland marine insurance protects your goods, materials, and equipment when transporting them over land, or if a third party is warehousing them. As a business in the telecommunications industry, it's important to cover your business fully.  Most of your contracts require you to carry at least a $100,000 installation floater covering material in transit or on the job site.


Do I Need Inland Marine Coverage?
Many business owners believe that a standard Business Owners Policy or Commercial Package Policy is sufficient, but any tools or equipment that travel, or goods you store off-site may not be covered.
For a telecommunications business that frequently ships or transports expensive testing equipment or products, inland marine insurance can be a lifesaver.   The shipment and transportation of expensive items are often excluded from other policies, but inland marine insurance protects a variety of things, including:
High-value telecommunications testing equipment
Construction and contracting equipment
High-value shipments of goods or products
Communications towers
Installation
Also, some inland marine policies will not cover test equipment you use in the field like Anritsu, so you need to be careful in choosing your inland marine coverage.
We Have Your Back
When you choose USA Telecom Insurance Services, you're choosing a company that not only caters specifically to the telecommunications industry but one of the few in the country that offers an "All Lines" insurance program for telecommunications contractors in the United States. Our A+ admitted insurance carrier meets all contractual demands of telecom contractors. With annual premiums for a line starting at just $20,000, there's no reason to wait. Contact us today at 800-645-8699.