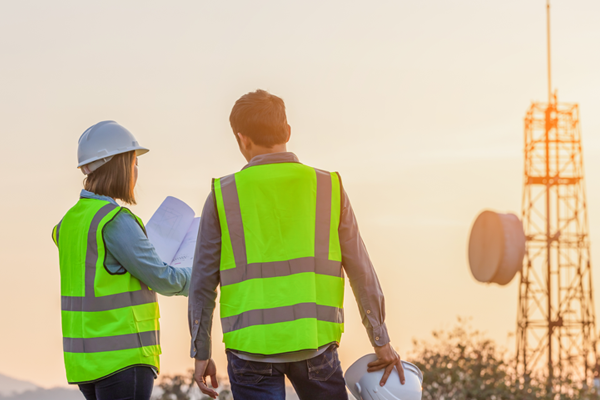 How to Support Your Telecom Tower Workers
If success at your job site relies on the performance of telecom workers, it is important to support them in ways that will ensure their safety, growth, and success. Here are some of the ways that you can help them and maintain a good work environment for everyone.
Enroll Tower Workers in Safety Training
Did you know that, according to Wireless Estimator, 166 tower worker fatalities have occurred in the last 20 years, and falls are one of the leading causes of death? A successful workplace is a safe workspace, and one of the best ways to ensure the protection of your team members is by enrolling them in annual safety training classes. In fact, there are multiple OSHA-compliant safety training options available to choose from.
However, don't stop there. It's also imperative to talk about safety one-on-one with your workers. To ensure the safety of your tower workers, be sure to implement the following procedures:
Ensure that your workers know the emergency and rescue plans specifically designed for your workplace.
Conduct complete and thorough equipment checks frequently.
Address specific workplace hazards and ensure your workers feel equipped to deal with them.
Encourage TIRAP Apprenticeships
They say that knowledge is power, and that is true for any profession. Another great way to support your telecom tower workers is by encouraging them to hone their skills through Telecom Industry Registered Apprenticeship Program (TIRAP) apprenticeships. TIRAP apprenticeships provide a great opportunity for workers because they help your current employees keep up to date with their training while remaining relevant in the ever-changing telecommunications industry.
Support the Tower Family Foundation
The Tower Family Foundation is a nonprofit organization that supports the families of tower workers and on-site personnel who are unable to work due to an injury incurred while working on a telecom tower. Donating to the Tower Family Foundation and getting involved with their efforts is a great way to show support for telecom tower workers and the telecom industry.
Safeguard Your Tower Company
One of the best ways of ensuring the safety of telecom tower workers is making sure your tower company has comprehensive insurance coverage. At USA Telecom Insurance Services, we provide top-tier coverage plans designed specifically for the telecom industry, including:
Property
Commercial Automobile
General Liability
Workers Compensation
Umbrella
Drone Coverage
For more information about insurance coverage for your tower company, contact our team today.