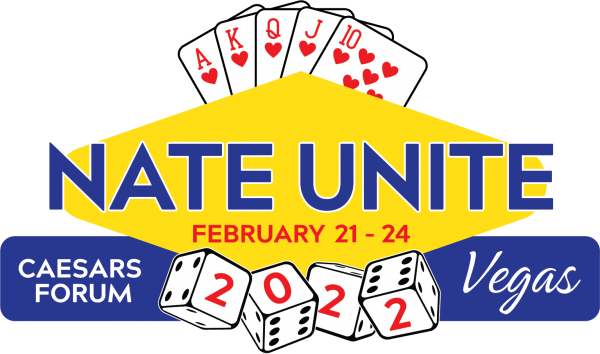 Visit USA Telecom at NATE UNITE 2022 in Las Vegas
From Monday, Feb. 21, to Thursday, Feb. 24, 2022, NATE: The Communications Infrastructure Contractors Association will host its annual NATE UNITE exposition at the new Caesars Forum in Las Vegas, Nevada.
NATE UNITE 2022 is billed as "the best place to interact with key decision-makers in the broadcast and telecommunications tower erection, service, and maintenance industry." The event highlights industry-related products and provides attendees the opportunity to gain tremendous exposure through in-person networking with industry professionals, manufacturers, and service providers, like the insurance experts at USA Telecom Insurance Services.
USA Telecom at NATE UNITE 2022
At this year's NATE UNITE event, USA Telecom Insurance Services will be represented by:
Dennis Robinson, CEO
Bruce Eades, President
Stephanie Brewer, Director of Telecommunications Safety & Compliance
DJ Robinson, Producer
Ross Evans, Producer
Bethany Miller, Commercial Lines Underwriter
Morgan Gordon, Commercial Lines Associate Underwriter
Stop by Booth #501 throughout the week to meet with our team and learn more about our comprehensive coverage and the Telecommunications Industry Registered Apprenticeship Program (TIRAP).
Event Highlights at NATE UNITE 2022
The NATE UNITE event is a great place to enjoy impactful events and connect with the USA Telecom team of experts. There are three ways to connect: stop by our exhibit hall booth (#501) or connect with us ahead of time through our contact page to set up a meeting outside the exhibit hall or at one of the following events.
Monday, Feb. 21, 2022, 2:15 p.m. – 3:15 p.m.
Educational Session: Discussions on the NATE SEMC Wire Rope Safety Sleeve Testing (Room 206) – Moderated by our own Stephanie Brewer, a panel of NATE Safety Equipment Manufacturer Committee (SEMC) members will discuss the results of the Wire Rope Safety Sleeve Report II and highlight how this type of testing is used within their varied roles in the industry. This session will include actual test videos and a panelist Q&A.
Tuesday, Feb. 22, 2022, 6:30 a.m. – 8 a.m.
WON 5K Fun Run/Walk (Forum Plaza) – Start your day the right way by joining us on the Forum Plaza for a USA Telecom-sponsored fun run. Attendees can choose to either run or walk during the Women of NATE (WON) 5K event. To receive a NATE UNITE 2022 WON 5K T-shirt for a $20 fee, attendees must register in advance.
Click here for a full schedule of events. We hope to see you there!